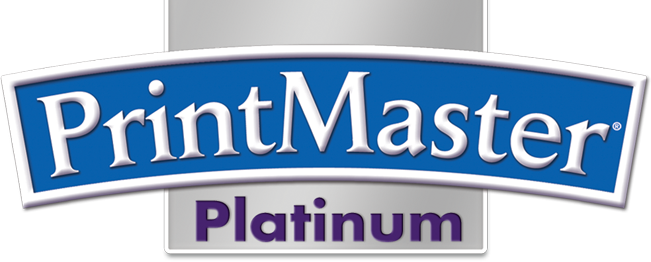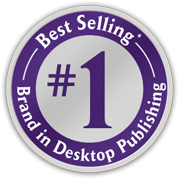 Create amazing print projects in minutes!
Whether capturing a memory or simply adding a splash of creativity to life, PrintMaster Platinum has everything you need to create amazing personalized projects in minutes. It's as simple as 1) Pick your template, 2) Personalize with your own photos and text and 3) Share your work with friends and family.
Thousands of possibilities
PrintMaster Platinum comes pre-loaded with thousands of unique templates and even more graphics and fonts so that the possibilities of what you can create are literally endless. This is the perfect software for just about any print project – whether you're creating banners, brochures, calendars, invitations, scrapbooks or stickers. PrintMaster Platinum can handle it all and more!
Amazingly easy design tools
Creating personal design projects has never been so easy or so fun. The intuitive PrintMaster tools allow you to handle advanced design challenges like drop shadows, 3D text, and beveling and the click of a button. Plus the Shape Tool allows you turn your project into a canvas where you can create any shape that you need on the fly.
One-click photo editing
Turn ordinary photos into perfect pictures with simple fixes. Whether you need to apply a filter, flip an image, crop a specific shape or just remove red eye, the easy photo editing tools in PrintMaster will make you look like a professional.
Share your designs!
Half the fun of creating personal print projects is showing off your work and PrintMaster makes it easy to share. Print at home or order professional prints through our integrated professional printing option. You can also burn your work to a CD or DVD or publish to the web with the click of a button.
Turn your Mac into an all-in-one design and print shop
Get creative today with the ultimate toolkit for creating personalized projects and crafts. Fun project templates, irresistible clip art images and easy design tools make PrintMaster Platinum so fun to use. Plus great features like drag-and-drop for photos and clip art, slider tools for drop shadows and easy headlines make PrintMaster Platinum the best way to add a personal touch to everyday projects.
Choose from a gallery of spectacular designs to capture life's special moments – birthdays, graduations, holidays, weddings, anniversaries and more. Then print at home, email or publish your creation on the Internet to showcase your projects.
PrintMaster 2013 Platinum is both PC and Mac Compatible so you can use the software on either operating system to create, edit and share files seamlessly.
With an abundance of powerful tools and an image library brimming with quality photographs and clip art, this creative printing software provides you with a versatile platform from which to create a host of memorable projects.
2012 Bronze Award, TopTenReviews.
PrinMaster Platinum is Perfect for:
greeting cards
signs & banners
family newsletters
invitations & notes
calendars & brochures
business cards & more
What's new in PrintMaster Platinum:
3,500+ ready-to-use templates
150,000+ clip art images
Greeting card wizard
New Avery® templates
Improved template searching
Iron-On printing capabilities
Unparalleled design & print features:
Easy to use Design, Text and Layout tools
Matching design sets
One-click photo editing
3D headline tools
Calendar creation tools
Perfect for every occasion
Integrated professional printing
PrintMaster Platinum System Requirements
Operating System: Macintosh® OS X 10.7 or later
Memory: 2GB RAM required, 4 GB RAM or more recommended
Hard Disk:Install requires approximately 5.0 GB. Downloadable content can require up to 36 GB of additional hard drive space.
Monitor Resolution: 1152×864 or higher display
Broadband Connection required