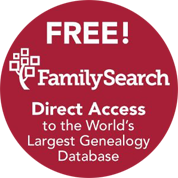 Create Your Family Tree
The history of every family is as unique as an individual fingerprint.  With Family Tree Heritage, you now have the ability to document and preserve that family history with the most intuitive and comprehensive genealogy software available.  You can quickly and easily create beautiful family trees that will showcase your family's heritage. Family Tree Heritage gives you so many options for documenting your unique family tree. From an incredible variety of pedigree, descendant and family charts to large wall charts to family ancestral books, Family Tree Heritage gives you every tool you need to create family tree documents that you can be proud of.
Find Ancestors with Family Search
Finding long-lost ancestors and expanding the understanding of your heritage has never been easier.  With one click, you can unlock records, documents and even photos of ancestors.  With Family Tree Heritage, you'll have full access to one of the most powerful family search tools: Family Search. There is no subscription required for worldwide searches and you'll have the ability to search billions of records with just one click directly from the Family Tree Heritage interface. Finding links to ancestors and branches of your family tree that were previously undiscovered has never been easier or more fun!
Share Your Family Story
The tools in Family Tree Heritage make it incredibly easy and rewarding to create documents that are easily shared with family members. With hundreds of options for different charts, trees, reports and records, you have everything at your fingertips to create an incredibly powerful family narrative that can be shared and passed down to future generations. Why not use Family Tree Heritage to create a family book that will become a treasured heirloom for years to come. The Ancestral Book Reports and Descendant Book Reports features make it incredibly easy to compile and export a fully documented and living history of your individual family.
More Tools than Any Other Genealogy Program
Family Tree Heritage gives you the biggest bang for your buck bar-none! Most genealogy programs only do a fraction of what this program does and they are more expensive. Family Tree Heritage is the
only
genealogy program that not only gives you access to incredible ancestral search through FamilySearch, but also gives you the tools to document and share your unique family history with others. Unique features like the Interactive Research Timeline, which helps you uncover events that occurred in your ancestor's life while you're working are unique to this program. Plus the intuitive tags, color-coding and charting systems make Family Tree Heritage one of the easiest programs to use.
Take your Family History Anywhere
One of the most unique features of Family Tree Heritage is that it is fully compatible with your Windows tablet. This means that you can go between working on your PC and tablet with ease and never have to worry about losing your work. With the ability to access your family database right from your tablet, it means that you can literally work from anywhere. And sharing your family tree with others is as easy and simple as handing them your Windows tablet!
More features than any other genealogy program
Family Tree Heritage is guaranteed to be the best genealogy program in the world. With more features, an intuitive interface and the best family tree search in the industry, you'll be able to craft your family story in a way that is both personal and fun.
Detailed Feature List:
New Features

Color coding to ID generations
Interactive research timeline
Tagging
Updated FamilySearch Database

Ancestry Charts

Box charts with photos
Standard ancestry charts
Ancestry wall chart
Wall chart with siblings

Descendent Charts

Standard descendent charts
Descendents wall chart
Dropline chart, line of descent
Simple dropline with photos

Family Charts

Publish a family book
Ahnentafel Chart (German Ancestor Chart)
Ahnentafel with Siblings
Cascading family group charts

Pedigree Fan Charts

Four color fan chart
Quarter circle fan chart
Half circle fan chart
Full circle fan chart

Large Wall Charts

Ancestry wall charts
Descendent wall charts
Descendent dropline charts
Line of descendent charts
Wall-sized fan charts

Pedigree Charts

Basic pedigree chart
Blank pedigree chart
Pedigree chart documented
Pedigree chart with images
Cascading charts

Family Books & Scrapbooks

Publish a family book
Ancestral book reports
Descendent book reports

Lists & Calendars

End-of-line individuals list
Sorted place list
Sorted individuals list
Sorted marriages list
Source and citation list
Family reunion contact list
Custom lists
Birthday calendar
Anniversary calendar

Records & Reports

Family group record
Individual summary
LDS individual reports
LDS couple reports
Modified register
Page of testimony
Blank family group sheets

Advanced Management Reports

Research log
Sorted place list with events
Possible problems
Duplicate individuals list
Unlinked individuals list
Relationship report
Database comparison list
Detailed change log

User-Friendly Interface

Modern interface with 17 skins
Share on flash or thumb drive
1-click search to billions of records

Advanced Features

GenRelationship Examiner
Indexed & advanced search
GenCollaboration
GenResearchManager
GenSourceCitation
MapQuest Locator
Family Tree Heritage Screenshots:
[testimonial name="Anthony" designation="Columbia, MO"] [icon name="icon-star"][/icon][icon name="icon-star"][/icon][icon name="icon-star"][/icon][icon name="icon-star"][/icon][icon name="icon-star"][/icon] –

I just started doing genealogy research about two years ago, and this program has helped in leaps and bounds. I used to use the free software provided by the LDS and it wasn't bad for a free product. However, this product has so many bells and whistles that it will make your head spin.





In short, I'm so glad I purchased it.

[/testimonial] [testimonial name="Rena B. Garcia"] [icon name="icon-star"][/icon][icon name="icon-star"][/icon][icon name="icon-star"][/icon][icon name="icon-star"][/icon][icon name="icon-star"][/icon] –

This awesome software. It is motivated for the beginning geneologist. The software provides mounds of information on how to research, organize and publish your finished product.

[/testimonial] [testimonial name="Cheryl"] [icon name="icon-star"][/icon][icon name="icon-star"][/icon][icon name="icon-star"][/icon][icon name="icon-star"][/icon][icon name="icon-star"][/icon] –

I have 10 full books of genealogy of my family and my husband's family. I had Family Ties on my old computer and when I bought a new computer I could not transfer it. I wanted a genealogy program like the old one. I did not find one exactly like it – but I do admit I like this new one. I may have to start all over again and make new books! I ordered first Family Tree Heritage and did not like it at all – you took it back and refunded the full amount to me. Thank you. And when I ordered the new one – Family Tree Maker 2011 I knew if I didn't like it, I could return it, but it is as close as I will get to the old one. The orders always came quickly. Thank you again for such great service.

[/testimonial] [testimonial name="Marybeth Horton"] [icon name="icon-star"][/icon][icon name="icon-star"][/icon][icon name="icon-star"][/icon][icon name="icon-star"][/icon][icon name="icon-star"][/icon] –

This new version of Family Tree Heritage (Platinum 8) has all the features of the earlier version plus some really nice new features including a new interface with several skins you can choose from, the option to convert from English to Spanish or French from a drop down menu, the ability to save your information on a thumb or flash drive, plus a tree icon you click on to search billions of records to find your ancestor information. All of the searches are free and don't require a monthly or annual subscription. Also, there are several different websites you can select to search from the drop down menu, which makes finding the information you are looking for easy and fast.





You can also import and export your data to most other genealogy programs. This latest version of Family Tree Heritage delivers everything you would expect from a good genealogy program, for example, it perfectly organizes your scrapbook items which could included your scanned docs, ancestry records, word files, text and pdf files, images, and sound and video files.

[/testimonial] [testimonial name="C. Cocker"] [icon name="icon-star"][/icon][icon name="icon-star"][/icon][icon name="icon-star"][/icon][icon name="icon-star"][/icon][icon name="icon-star"][/icon] –

I started using The Family Tree Heritage with its earliest version in the 1990's and find it to be very easy to use. My husband bought Version 8 for me for Christmas. I really like it. I generally get the new upgrade when it comes out.





I've read the other reviews and disagree wtih the statement that it is difficult to use. I will clarify to say that it has many features available that could require much input of information, so that may be seen as difficult. At a minimum, names and relation to each other (son of, sister of, etc.) are all that is required, but there are allowances, of course, for dates, places, siblings, multiple marriages, and so on. The more you know about a relation, the more you can input. As with any ancestry software, the research is up to you, and that can prove difficult and/or expensive. Subscriptions to online ancestry sites can be pricey, but useful. It depends on how deep you wish to dig.





Noted features include: Photos can be attached to information. A "root person" can be designated and from that, all other names are labeled as how they are related to the root person ("Great-Great-Grandfather", for instance). Of course, you can print out reports in the form of attractive-looking 'trees' or simply as database listings.





I recommend this software to anyone who is serious about their genealogy research.

[/testimonial] [testimonial name="Lauretta Avina"] [icon name="icon-star"][/icon][icon name="icon-star"][/icon][icon name="icon-star"][/icon][icon name="icon-star"][/icon][icon name="icon-star"][/icon] –

This was my first time using any type of software to trace my family tree. I was a bit daunted at first at how many features it has so it did take me a while to "learn" about all of the features but after I did, it was so much fun and it actually is very easy to use. I was amazed at how detailed and organized it really is which makes it great for me because I am not the most organized person. I like that I can attach photos to information and how I can actually print out reports. I would recommend this product to anyone that is serious about genealogy.

[/testimonial] [testimonial name="Felisha"] [icon name="icon-star"][/icon][icon name="icon-star"][/icon][icon name="icon-star"][/icon][icon name="icon-star"][/icon][icon name="icon-star"][/icon] –

Ive used the software everyday for the past week for at least three or four hours each time. It was simple enough to jump right in and start using. It's great to attach the photo and documents that I've scanned into my computer. I do wish there was a way to upload multiple photos at a time per person. Now that being said… I almost didn't purchase because there were a couple of people in reviews that mentioned its useless without a subscription to ancestry.com… Not true! You can view pedigrees and descendants of a lot of people. The things you can't see are documents from census and brith or death certificates, but to get copies of those so you would still have to pay.




All in all is easy to use doesn't crash and will make doing genealogy a lot more organized.

[/testimonial]
Family Tree Heritage System Requirements:
Operating System: Mac OS 10.7 or later
Hard Disk: 100 MB
Display: minimum 800×600
Internet Access required